FB20 Isolatiebox
Optimaal geïsoleerde transportverpakking
Isolatie op zijn best
De FB20 Isolatie Box is een uitzonderlijk goed geïsoleerde transport en opslag box. De stabiele interne boxconditie maakt de FB20 Isolatie Box zeer geschikt voor het vervoeren en opslaan van bijvoorbeeld High Tech apparatuur, kunst en farmaceutische producten. Door het gebruik van speciale isolatiepanelen, blijven de interne condities van de box stabiel, zelfs bij extreme buitentemperaturen. Elk paneel is voorzien van een chip om de isolerende werking te monitoren.
Speciale box op maat
Deze speciale box kan in elke gewenste grootte worden uitgevoerd, volledig afgestemd naar uw wensen. Wij zijn in staat boxen te isoleren door middel van een XPS schuim of vacuüm panelen. Het stof- en spatwater beschermende sluitsysteem biedt de beste bescherming voor al uw transportgoederen en is bij aankomst razendsnel te demonteren.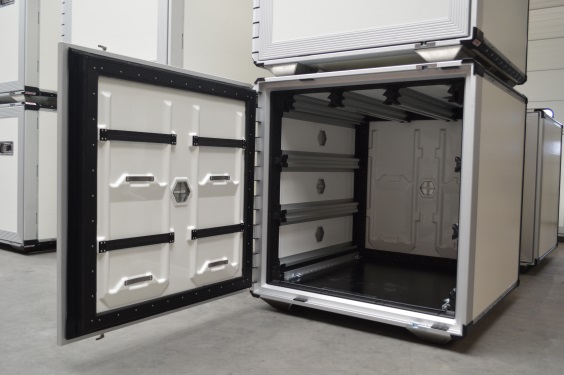 Maatwerk
Wij leveren maatwerk, heeft u speciale wensen? Graag bespreken we met u de mogelijkheden.
Retourneren en recyclen
De boxpanelen zijn volledig in elkaar te vouwen tot een plat vlak. Zo'n platte box is eenvoudig op een pallet te bevestigen en per omgaande te retourneren voor hergebruik; als transportbox of voor extra opslagcapaciteit.
Temperatuur onder controle
De FB20 Isolatie Box wordt gebruikt voor het transport en de tijdelijke opslag van producten die temperatuurgevoelig zijn. De box is ontworpen voor onder andere de volgende branches en producten: kapitaalgoederen, de semiconductor industrie, de medische industrie, kunstvoorwerpen, lucht- en ruimtevaart en defensie.
Offerte aanvragen?
De isolatie box wordt op maat gemaakt op basis van uw specificaties, gebaseerd op de producten en/of halffabrikaten die u moet vervoeren. Ons adviesteam helpt u graag. Vraag een vrijblijvend offerte gesprek aan.
Alle isolatie boxen worden speciaal op maat gemaakt. Door het lichte gewicht en de jarenlange levensduur van de isolatie boxen kunt u flink op uw transportkosten besparen. Wilt u weten of de Fawic Isolatie box voor uw transport een juiste verpakking is? Neem contact met ons op.