Flightcase, sterk en kostenbesparend
Applications
Ultralichte Flightcase
Onze nieuwe, ultralichte trunccase is voorzien 2-kleurige (zwart-wit) panelen. De vast verlijmde bak met afneembaar deksel wordt afgesloten door middel van ons sterke en unieke FB20 sluitsysteem. De slagvaste panelen zijn ultralicht: slechts 2,65 kg per m2.
Optioneel (tegen meerprijs) kan de trunccase voorzien worden van stapelvoeten of zwenkwielen.
Ultralichte Trunccase
Heeft u vragen over onze Ultralichte Trunccase? Onze adviseurs helpen u graag met uw specifieke wensen.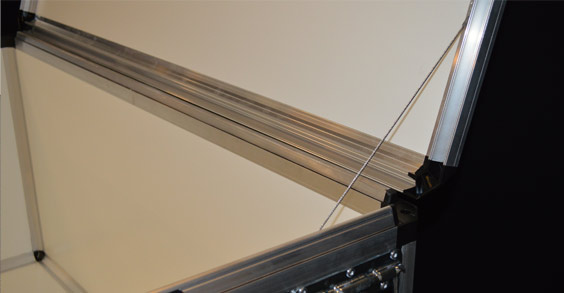 Maatvoering
De Ultralichte flightcase heeft een deksel dat kan scharnieren, zodat u makkelijk uw producten kan laden en lossen. De maximale lengte van deze flightcase is afhankelijk van het gewicht van de lading.  De trunccase is leverbaar in 2 standaard afmetingen LxBxH: 1200x600x600 mm en 1200x800x600 mm. Overige afmetingen zijn op aanvraag.
Heeft u vragen of specifieke wensen voor uw flightcase?  Neem contact met ons op.